How Many Roof Anchor Points Do I Need?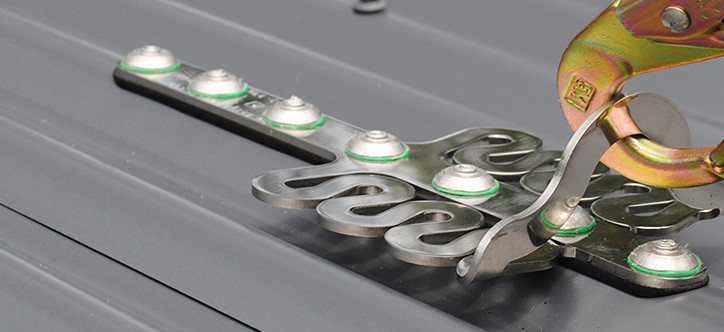 How Many Roof Anchor Points Do I Need?
For a specific answer to this question, there is a lot of factors that need to be considered.
What work is being done on your roof?

What is the maximum number of people that will be carrying out work on the roof at any one time?

What is the size of your roof?

What is the roof construction?
In order to properly ascertain the ideal number of roof anchor points to install, you will need a height safety professional to inspect your site and provide you with their analysis. While you may be disappointed that we are not providing you with a simple answer here in regards to the ideal number of roof anchors for your roof, we hope you understand that your safety is our priority.
---
Don't Become A Statistic: Falls from heights are one of the leading causes of death and permanent injury on construction and building sites throughout New South Wales.
---
How Far Apart Should Roof Anchors Be?
Identifying correct installation points is vital in order to create a height safety system that is both compliant with all necessary legislation as well as offering an easy to use system. In regards to deciding on the correct distance between roof anchors, the following guidelines from Sayfa roof anchor points should be taken into consideration:
Never position an anchor more than 10M from the roof edge. Further than this will require longer than standard (15M) rope line which is heavy and cumbersome to manage.

Never allow more than 6M between anchors as this will create large 'dead zone' areas at the roof edge causing a pendulum fall possibility.

The primary anchor (or reference anchor) must always be placed such that the distance away from the gutter edge of the roof is the same as from the gable end of the roof.
As there are specific legal requirements for ensuring a height safety system is compliant, engaging the services of a professional installer is the only way of properly identifying the ideal distance between roof anchor points installations.
---
How Much Weight Should An Anchor Point Hold?
What does the legislation say? Roof anchor points meet the requirements of AS/NZS 5532:2013.
AS/NZS 5532 requires anchor points to undergo dynamic testing in a NATA accredited laboratory to the minimum standards of ISO17025.
This testing requires two-person anchor points to pass the dynamic load of dropping 150kg through two meters, while single-person anchor points have to withstand a dropped 100kg load through two meters.
The anchor points pass the requirements only once they are able to withstand the load for a further three minutes. Upon inspection, the anchors must not display any breakage or cracking.
---
How Often Do You Need Roof Anchors To Be Inspected?
There are some key facts to assist with the certification of roof anchor points:
Only certified roof anchor point installers can legally certify height safety systems.

WHS regulations require roof anchor points in NSW to be annually certified to ensure they are in good working order.

Following the testing and certification process, a certificate of compliance valid for 12 months should be issued.
If a roof anchor point has not been certified in the previous 12 months, it should not be used as it may not be in good working order. What could render your roof anchor point unsafe for use? Rust, structural stress or vibration, compromised building integrity and damaged height safety equipment could lead to your roof anchor points not meeting the necessary safety requirements.
For hassle-free certification of roof anchor points on a residential, mixed-use, strata-titled or commercial property in Sydney, rely on the highly-recommended services of the team at Sydney Anchor Points. With low-cost services and fast response times, Sydney Anchor Points can help ensure your height safety system is compliant and ready for use.
---
Who Is The Best Roof Anchor Point Installer In Sydney?
If you have been researching roof anchor point installers in Australia, undoubtedly you will have seen the name Sydney Anchor Points a lot!
From expert guides highlighting advanced maintenance techniques to 5-star reviews from satisfied customers, it is easy to see that Sydney Anchor Points has a reputation in the industry as a team of leaders and innovators.
You might be surprised to find out how many property owners, strata companies and facility managers rely on Sydney Anchor Points. In the last year, more than 10,000 residential and strata customers relied on the specialised height safety services of the team.
For more than 18 years, Sydney Anchor Points has been providing class-leading roof safety systems throughout the Sydney Basin. Whether you need a single anchor point certified or the design and installation of a comprehensive height safety system that utilises ladder brackets, roof access hatches and permanent anchor points, Sydney Anchor Points is the team you can rely on for premium-quality services and industry-leading results.
Sydney Anchor Points, they understand the finer points of the industry!
With a zero-incident safety record, the team put safety first every day of the week.
Sydney Anchor Points service all suburbs in the Greater Sydney region.
---
What Services Does Sydney Anchor Points Provide?
Safe roof access system design

Roof safety audits

Roof anchor point installation

Roof anchor point certification

Ladder bracket installation

Roof access hatch installation

Height safety certification

Roof fall protection anchors
Whether your roof is constructed from metal, tiles or concrete, Sydney Anchor Points has the expertise, equipment and personnel to ensure successful installation and certification.
Call the team today for a free quote. If you have any questions about the specific type of roof anchor points that would suit your unique requirements and budget, don't hesitate in giving the team a call for expert advice and assistance.
For one-stop height safety solutions, rely on Sydney Anchor Points.
Sydney Anchor Points
Address: 14/5-7 Prosperity Parade, Warriewood NSW 2102
Phone: (02) 8020 5777
Website: https://www.sydneyanchorpoints.com.au/